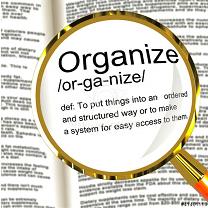 Did you know that January is National Get Organized Month? It was actually established in 2005!  So, where in your life do you need to get organized?
The thing is, when your home, business or life is disorganized it zaps your energy and mojo.
Think about the last time you walked in to your home and it felt clean, clear of clutter, and everything had a spot… (Hopefully you have experienced this at some point!) But, if you haven't, think about the last time you walked in to a hotel room that was clean, clutter-free and organized. It makes you feel good! The surroundings give you energy and are uplifting.
The reverse is also true… think about the last time you were trying to find something that was missing in your space, or looked at the stack or pile that needed your attention. How did that make you feel?  Frustrated, exhausted, overwhelmed?
That is what happens when you are disorganized. It is a stamina stealer and takes away your vitality. It drains you and overwhelms you, which has a major impact on your level of energy, productivity, creativity, ability to focus, patience… and the list can go on and on. Basically it plays a massive role in your level of happiness & abundance and has an impact on your relationships & health.
I was on the phone with a new client who needs help organizing her home office. She is tired of looking at the stacks of paper and folders all around her and knows it is taking away from her productivity. She explained, "How effective can I be when it takes me a few minutes when I need to find something?" This is so true and I applaud her for recognizing it and seeking help! Not only will disorganization rob her of her effectiveness, which in her case will have a direct impact on her profitability, but it will also spill over into other areas of her life. If she is frustrated in her space, do you think it has an impact on her level of patience with her family?
Sometimes it is hard to believe that a little clutter or disorganization can have such a major effect on all areas of your life. I am here to tell you it does! It is like the proverbial pebble in the pond that ripples out and touches everything.
Take a few moments to think about what area of your life need to get organized. Is it your space, your financials, your relationships? Whatever it is for you, get started today!
Here's to January is National Get Organized Month!
Happy Soaring!

PS…If you need a little motivation to organize your space, I have created the FREE Home in Harmony 14-Day Clutter Clearing Challenge to support you! Share the link with a friend who you can do the challenge with so that you have a buddy system and accountability partner! This always helps to move you to new heights!
PSS…If you think you need individualized support with your home…contact me at [email protected] and in the subject line enter "PLEASE HELP ME ORGANIZE". One of our coaches will assess which program would be best for you!
Image Credit: all thing admin dot com