Are you overwhelmed & scattered? I will make this simple… Less is truly more. Less gives you clarity which gives you focus. Focus breeds success.Look at your life and decide what is essential in your home, life & business. Greg McKeown illustrates an important concept of why you might feel scattered. He explains why the Disciplined Pursuit of Less can have a major impact on you in every area of your life.
Explore what is essential and non-essential in your home, personal life and business.
Eliminate anything non-essential.
Execute by starting now… even if you start with something simple like your closet.
In this week's video I show a page from Greg's book, Essentialism, that might help you have an ah-ha moment of why your home, life and business might not be flowing with ease and grace. I know this picture gave me a thousand insights in to why Less would be so much More in my life! I would love to hear what you think is essential and non-essential in your life… Leave your comments below the video!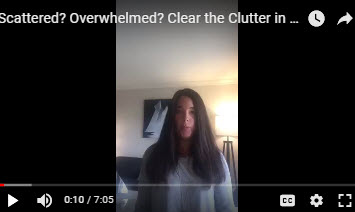 Happy Soaring!
XOXO

P.S. Just in case you need the link to the Free Clutter Clearing Challenge… here it is —> https://christaoleary.com/14-day-clutter-clearing-challenge-registration/