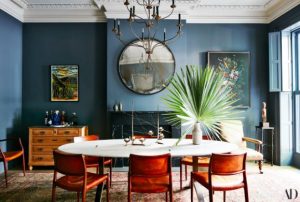 Coach's new CEO, (the former CEO of Tom Ford's Yves Saint Laurent and Jimmy Choo) Joshua Schulman, understands that "Design really can be transformative."  One thing I have learned while studying the masters of design, psychology and success is that your environment is the foundation that supports you in reaching your goals of happiness, success, health, wealth, relationships or it can have a detrimental impact on every aspect of you life. Obviously Schulman's awareness of space has supported his dreams and played an important role in his success. Or, more accurately, multiple successes.
So, how is your environment transforming you?
In today's article I will give you a 2 Simple Solutions to help you understand whether your environment is helping you live to your full potential or setting you up for breakdown.
Mitchell Owen of Architectural Digest explains that Schulman's home is "a place where past meets present in perfect harmony." Schulman's home in harmony has no doubt given him a solid foundation for his unprecedented success in the world of retail fashion design allowing him to lead iconic global brands. When your space is a sanctuary for rejuvenation it allows you to go out into the world and be the best you can be, whether that is making clear headed business decisions, being inspired creatively, having vibrant health and energy or enjoying harmonious relationships. Your space is a reflection of your inner world. Your space also can transform your inner world so that your life can flow with ease and grace allowing you access to your goals, aspirations and dreams.
First, determine how your space can best support you. If you are an introvert who likes solitude, quiet and clutter-free space, it is important to create a calm sanctuary that supports your need to be nestled in your nest. If you know that a high-vibe revives your style of recharging, then create a space that is in energetic alignment to recharge your proverbial batteries. Recognizing what fortifies you is the 1st step in creating a transformative space that is a solid foundation for your extraordinary success in the world.
Second, notice if your space is in alignment with step 1. When you walk through your door at the end of the day are you certain that your space is going to renew, nurture and support you? If not, what one thing can you do today to begin making your environment a reflection of the life of your dreams?
These 2 Simple Solutions will help you begin to transform your outer and inner world so that you are enjoying the life you were meant to live.  If you are overwhelmed by all the things you "should" do with your space… I have a simple, easy and effective gift for you… the 14-Day Clutter Clearing Challenge.
PS. In the Fall of 2017 we have new programs on the horizon to help you soar! Be on the lookout for these new opportunities!
Happy Soaring!
XOXO

image credit: architectural digest